Build her a cake?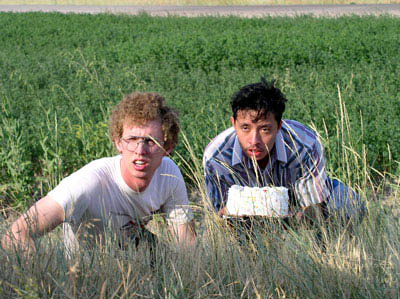 After
Napoleon Dynamite
came out, kids at my sister's high school in California started "building" cakes to ask each other out, thinking that it was just something funny from a movie. Little did they know they were doing something normal, and to be honest, quite unimaginative, in "Mormon Culture." It's been around for ages, this creative-date-asking thing, and cakes are pretty bland in comparison to some other ways I've heard of. The following are things that I have known people to do or (confession time!) I have done myself. Oh! Let's make it a game! Guess which ones I've done!
- The treasure hunt- She put an alarm clock under his bed, set for 3am. Taped to the clock was the first of a set of clues to lead him to a toy dump truck full of hamburger buns and a note that said "I'd like to haul your buns to the dance"
- The cereal one- Written on a box of Honeycombs: "Honeycomb your hair, I'm taking you to the dance!"
-The Half and half- She gave him a carton of half and half attached to a bouquet of balloons. On the carton was written "Half of me wants to go to the dance with you..." and in the balloons were the words "and the other half does too"
-The butter- She sent over four sticks of butter with his name written on them, about 15 minutes apart. Last to be delivered was a loaf of bread with her name baked inside and a note that read "Now that I've buttered you up, will you go to the dance with me?"
-Ice cream- Her name was hidden towards the bottom of a hand-packed half-gallon of 31, and the lid asked if he would go.
-Super corny- Roses hung from the shower, Hershey kisses strewn all over the floor, the note: Now that I've showered you with roses and kissed the ground you've walked on, will you go to the dance with me?
-Flour- Written on the outside of a 25lb bag of flour, "Will you go to the dance with me?" Hidden somewhere inside the bag, her name. That one made quite a mess trying to figure out who it was from!